Activities as a freelancer
Studio: Via Medardo Rosso 19, 20159 Milan, tel / fax 02-606100, cell. 333-3936425; skype: nicola.noe; e-mail: nicola.noe@odaf.mi.it 
In November 1988 it opened the VAT number (activity "9300 – Agronomists, Veterinarians, Agrarian and Assimilated Experts" n. 09464750158) for the activity of freelancer. He has worked mainly in the fields of tree crops, small fruits, and the urban ornamental environment.
Focus the professional activity of green design: land conservation and environmental sustainability.
(Progettazione agronomica – vedi)
Attività presso Agricoltura e Ricerca – AGER s.c.r.l.
Agricoltura e Ricerca – AGER s.c.r.l., via Tucidide, 56 – 20100 Milano; tel/fax 02-91704936 www.agercoop.it
The Soc. Coop. Agriculture and Research in r.l., with initials AGER s.c.r.l. was established in February 1993 by the aggregation of professionals operating in the agri-food and environmental sectors, who have gained their experience by collaborating in various ways with the experiments conducted by University Institutes and public and private bodies and dedicating themselves to activities of advice. Dr. Agr. Nicola Noè is: founding member, member of the Board of Directors from 1993 to 1999, Vice-president from 1993 to 1997, President from 1997 to 1999, from 2006 to 2013 referred to the Board of Directors.
Currently AGER s.c.r.l. consists of 23 graduate members, who devote themselves to theoretical and applied research in the fields of ornamental greenery, the environment, nursery productions, fruit-growing, vine-wine making and agro-food. Main customer directory: Provincial Administration of Pavia, Coop Servizi, Bayer Italia SpA, Europ Assistance Service SpA, Cantine Val dell'Illasi, Cantine di Franciacorta, Lario Orientale Mountain Community, Hydro Agri Italia SpA, Regional Institute of Valle d'Aosta, CI .VI.FRU.CE, Coop. Bergamo Small Fruits.
Attività presso UrbanStudio
Urbanstudio, 20087 San Donato  Milanese – via Cesare Battisti, 17 tel/fax 02-51800458 www.urbanstudio.it
UrbanStudio is a coordination structure of experts who want to work in the field of transformation of the territory according to some fundamental research objectives: ethics, sustainability, innovation and quality. Started in 2001 by Dario Vanetti, today UrbanStudio is a structure with a core stable consisting of various figures operating in the field of urban planning and landscaping, greenery and the environment, infrastructure and architecture, and activates numerous qualified professionals in a network logic.
In addition to the skills of Dario Vanetti, professor of urban design and composition at the Politecnico di Milano, the stable core of UrbanStudio consists of the architects Edoardo Garbagnati and Walter Villa and the agronomist Nicola Noè.
Attività dell'ARCA DI NOE' sas
L'Arca di Noè S.a.s. di Nicoletta Costi e C., Via P. Borsieri 39, 20159 Milano, tel/fax 02-606100, e-mail: arcanoe@tin.it
In February 1997 he established, as General Partner, the Ark of Noah sas of Nicoletta Costi and C. The object of the company is: translation and interpretation activities; study and research activities, surveys, statistical surveys and dissemination, as well as teaching, design and management in the fields of engineering, agriculture, veterinary medicine, biology and the environment in general; design, construction and arrangement of green areas, avenues, parks, orchards, terraces and gardens and the realization of all the necessary works, as well as the production and supply of plants; organization of training courses in every field, seminars, conferences, fairs, entertainment spaces in closed and outdoor venues, meetings, parties and cultural and recreational events, refreshment points, leisure and holiday installations.
In collaboration with Dr. N. Costi-Richards, a parliamentary and simultaneous interpreter from and to Italian, English and French, she has carried out activities in particular as translator of scientific works in the agronomic and environmental sectors.
Attività presso l'Università di Milano, Facoltà di Agraria, Istituto di Coltivazioni Arboree (ICA) ora Dipartimento di Produzioni Vegetali (DI.PRO.VE)
Dipartimento di Produzione Vegetale – Sezione di Coltivazioni Arboree, Facoltà di Agraria, Università degli Studi di Milano, via Celoria 2, 20133 Milano; tel. 02-50316594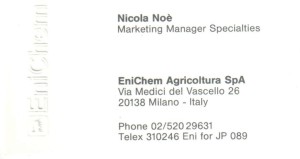 Attività presso EniChem Agricoltura S.p.A. – Milano
EniChem Agricoltura S.p.A., Via Medici del Vascello 26, 20138 Milano
Hired in February 1986, he resigned in May 1990, when he was placed at the seventh level of the National Chemistry Contract. From December 1987 to October 1988 he was commanded in New York at the subsidiary EniChem Americas Inc. From January 1989 to January 1990 in part-time relationship (50%), thus dedicating the remaining time to research activities at the ICA Milan and the free-lance of Agronomist. Positioned in the Marketing unit, to complete and expand academic training, he attended various courses on marketing, administration and finance and IT. He is mainly involved in technology transfer, that is the development of products and technologies for agriculture from the research phase to the marketing phase. This made it possible to have close relationships with both the private and university research sector – collaborating from the drafting of experimentation programs to the acquisition of results – but at the same time maintaining a solid relationship with the market. It was in fact from the joint evaluation of the experimental results and economic feasibility analysis that the industrial development of the product or technology depended. In 1990, he was appointed marketing manager of specialized fertilizers. products. Planning and Development (1987): development of new initiatives and products. Innovative Activities and Products Division (1990): Marketing Manager of Special Fertilizers. Products and topics addressed: slow release fertilizers; nitrification inhibitors and urease; specialized fertilizers; plastics in agriculture; organo-mineral fertilizers; lawns: maintenance and production; liquid fertilizers; biotechnology.
Attivita' presso EniChem Americas Inc. – New York
EniChem Americas Inc., 1221 Avenue of the Americas, New York, N.Y. 10020.
From December 1987 to October 1988 residing in New York City, commanded at the subsidiary EniChem Americas Inc. Objective of the activity: technology transfer. The phases in which the work was articulated were: identification of the main innovative products and technologies developed in the USA, evaluation of their technical and economic value, evaluation of transferability in the Italian and European reality, commercial agreements. EniChem S.p.A. he was interested in joint ventures with US companies in the seed sector and therefore the opportunities in this regard were evaluated. To carry out these tasks, frequent contacts were needed with representatives of the industrial world, university researchers, US bodies and associations, as well as numerous trips throughout the territory. In addition, he carried out extensive bibliographic research both in the major US, university and public libraries, and in using the most up-to-date agricultural data base. He worked closely with American universities and other research institutes, where research was commissioned: from the drafting of experimental programs, to the discussion of results, to the compilation of the final reports. He also worked at the EniChem Americas Laboratories complex in Princeton, where research was ongoing for the genetic improvement of maize, potato and tobacco with genetic engineering techniques. Company function: business development. Topics addressed: slow-release fertilizers; nitrification inhibitors and urease; seeds; seeds for seeds; lawns; liquid fertilizers; biotechnology; pesticides.
Way Out Fitness Center
La Cantina di Manuela:
Milano, Via Poerio – Enoteca di Via Poerio Srl
Saronno – Rimini Srl